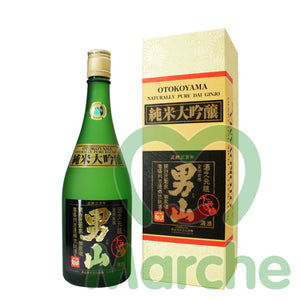 "Otokoyama"Otokoyama Junmai Daiginjo|"男山"男山 純米大吟釀|"男山"男山 純米大吟醸|720ml|★
Packing : 720ml|Bt
※ Packing Size : 8Bt|Ct
Specification
The best taste of Otokoyama is brewed out by Brewer's excellent, careful technique.
In 1977, won the world first Monde Selection Gold Prize with sake. It has been going on for 40 years. In addition, won many gold medals in domestic and foreign liquor competition. this is Jyunmai Daiginjyo representing Otokoyama. By polishing rice of Yamada Nishiki made by Hyogo-made(38%), the reason of this supreme taste is that all the processes are performed manually. Please enjoy calm inclusive incense an elegant taste which spreads richly.
Brewery|Winery : Otokoyama Co., Ltd.
Rice|Ingredients : Yamada Nishiki (Hyogo Pref.)
Rice Polishing Ratio : 38%
Sake Meter Value(SMV) : +3.0
Alcohol by Volume % : 16%
Serving : Chilled, Room Temperature
※ 2019 Monde Selection 2019 :

 

Grand

 

Gold Medal
※ 2018 Monde Selection 2018 : Grand Gold Medal
※ 2017 Monde Selection 2017 : Grand

 

Gold Medal
スペシフィケーション
1977年、日本酒で世界初となるモンドセレクション金賞を受賞。以来40年にわたり受賞を継続しており、他にも国内外の酒類コンクールにおいて数多くの金賞受賞を誇る、当蔵を象徴する純米大吟醸です。選び抜かれた兵庫県産山田錦を38%まで磨き、洗米・蒸米・製麹など醸造工程の大半を人の手で行うことで生まれる至高の味。穏やかな含み香、淡麗ながらも豊かに広がる上品な味わいを是非お楽しみください。
※ 2019年 モンドセレクション 2019 最高金賞受賞
※ 2018年 モンドセレクション 2018 最高金賞受賞
※ 2017年 モンドセレクション 2017 最高金賞受賞
---
We Also Recommend
---