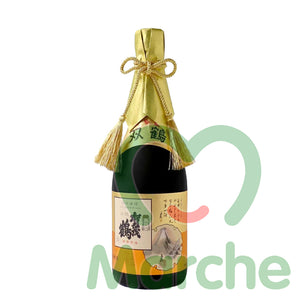 "Kamotsuru"Soutsuru Daiginjo|"賀茂鶴"双鶴 大吟釀|"賀茂鶴"双鶴 大吟醸|720ml|★
Packing : 720ml|Bt
※ Packing Size : 6Bt|Ct
Specification
Premium class sake, fruity and elegant aroma, rich taste.

One of the highest-grade sake in Komotsuru products. Rice called "Yamada-Nishiki" is used. The rice grain is polished until 32 precent of grain remains. The purpose is doing this is to avoid rough and wild tastes exhanstitively.
The Toji(the Brew Master) focuses his skills on brewing this sake. The fragance is fruity and lively and the flavor is dense.
Brewery|Winery : Kamotsuru Sake Brewing
Rice|Ingredients : Yamada Nishiki
Rice Polishing Ratio : 32%
Sake Meter Value(SMV) : +3.5
Alcohol by Volume % : 16~17%
Serving : Chilled, Room Temperature
※ 2019 Glass of Wine, Delicious Sake Award 2019 : Gold Prize
※ 2014 Glass of Wine, Delicious Sake Award 2014 : Gold Prize
※ 2013 Autumn National Sake Competition 
2013 : The First Grand Prize
※ 2011 International Wine Challenge 2011
 : Gold Medal
※ 2007 Autumn National Sake Competition 
2007 : First Prize

スペシフィケーション

果実のような華やかな香り、ふくよかな味わいが特長の大吟醸酒。
山田錦を100%使用し、時間かけ精米歩合32%まで磨き、賀茂鶴伝統の技を駆使し、寒中に慈しみ手造りで醸した大吟醸酒です。
香り高く、すっきりした喉ごしの中にもふくよかな味わいがあります。

酒蔵|ワイナリー : 賀茂鶴酒造
※ 2019年 ワイングラスでおいしい日本酒アワード 2019 金賞受賞
※ 2014年 ワイングラスでおいしい日本酒アワード 2014 金賞受賞
※ 2013年 全国国際酒類振興会主催 秋季全国酒類コンクール 2013年 特賞第1位
※ 2011年 インターナショナル・ワイン・チャレンジ 2011 金賞
※ 2007年 全国国際酒類振興会主催 秋季全国酒類コンクール 2007年 第一位
---
We Also Recommend
---