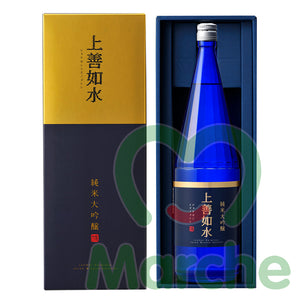 "Shirataki"Jozen Mizuno Gotoshi Junmai Daiginjo(Blue)|"白瀧"上善如水 純米大吟釀(藍色)|"白瀧"上善如水 純米大吟醸(藍色)|1800ml
Packing : 1800ml|Bt
※ Packing Size : 3Bt|Ct
Specification
Powerful and dignified showing Jozen's integrity and sincerity.
We make this Junmai Daiginjo sake with floral notes of cantaloupe and nectarine.
Indigo offers balanced grain sweetness and a velvet like texture with a light breeze of umami. Quiet fruity elements nestled in different layers create a complex landscape of flavor. Our pristine spring water nourishes these elements and tells our story one sip at a time.
Brewery|Winery : Shirataki Sake Brewery
Brand : Jozen Mizuno Gotashi
Rice|Ingredients : Domestically Produced Rice
Rice Polishing Ratio : 45%
Sake Meter Value(SMV) : +2.0
Alcohol by Volume % : 15~16%
Serving : Chilled, Room Temperature, Warm
スペシフィケーション
華やかな香り、酸味の切れ、水のやわらかさ。それらが一つにまとまることで、決定的なお酒となります。特別なお祝いや、大切なあの人への贈り物などにおすすめします。
---
We Also Recommend
---