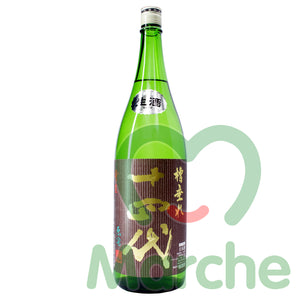 "Takagi"Juyondai Funatare Honsho Genshu Junmai Ginjo|"高木"十四代 槽垂本生 原酒 純米吟釀|"高木"十四代 槽垂れ本生 原酒 純米吟醸
Packing : 1800ml|Bt
※ Packing Size : 6Bt|Ct
Specification
It is the purely U.S. quality sake brewed from the finest rice which the faintly sweet fragrance makes during 14 generations.
A sweet smell is splendid and is the gem of the good illusion of the taste.

Brewery|Winery : Takagi Brewery
Brand : Juyondai
Rice|Ingredients :
D
omestically Produced Rice
Rice Polishing Ratio : 50%
Sake Meter Value(SMV) : 
+1
Alcohol by Volume % : 17%
スペシフィケーション
とってもフルーティーでワインと間違えるほど、、、。
甘み、旨み、透明感、バランスのよさという高木酒造に対する期待値が全部詰まっていている十四代の槽垂れ本生原酒です !

酒蔵|ワイナリー : 高木酒造
精米歩合 : 50%
---
We Also Recommend
---